The past: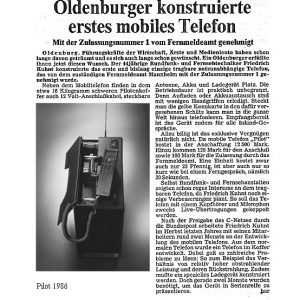 The Friedrich Kuhnt GmbH from Oldenburg is your reliable partner for many years and a pioneer of mobile-office products. In the 80s, the first in Germany licensed, portable telephone – the Pilot, was developed and produced here, which now stands in the Technical Museum in Munich and brought us to that time into the press and the television. With the success of the Pilot, the Pilot-Unifax was built a short time later, with which faxes could be sent via GSM-network. This was built by us for many well-known manufacturers.
Likewise the 'ReporterSet' was created by us, with which it was possible for radio and television, to report without a fixed connection directly from the happening, for the first time.
More about our history (in German only) www.kuhnt.de
---
The present: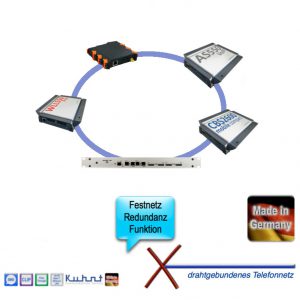 Today we meet different challanges and come up with mobilphone network gateways for a wide variety of applications – whether analogue gateways or for ISDN BRI & PRI and VoIP – with our products, you are well prepared for your requirements. As a fallback system to your telephone system, to reduce costs (e.g. for calls to foreign mobile networks) as a mobile office in vehicles (Telephone, fax and LTE/UMTS inside) or in construction containers or as a terminal for SMS text message delivery (e.g.: send activation codes).
Furthermore we develope and produce alarm modules, with which even a piece of smart home can tbe realised. With these, you can query not only information, you can also "switch and control" as you like. And all in a "Made in Germany" quality.