Standalone GSM alarm device
4 input and 2 output contacts, plus a connection for a temperature sensor.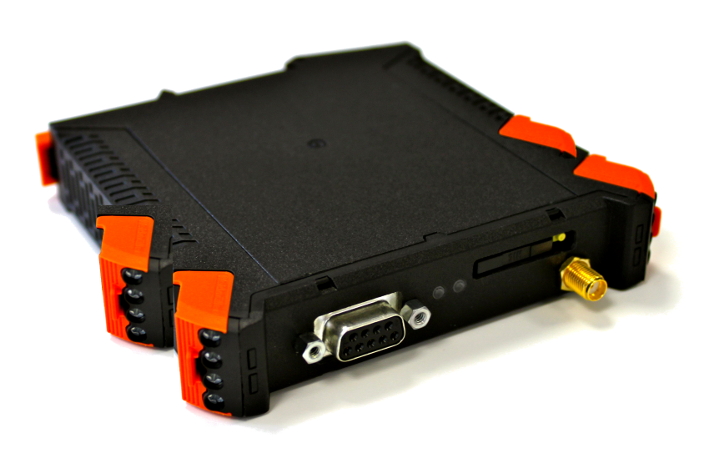 Sends via SMS short message, alarm messages or control commands. Controlled by an internally working Cinterion TC65i GSM module with its own JAVA application.
---
Operating mode
When an input contact is triggered by a machine, a measuring sensor or an alarm system, the a SMS short message is sent and a responsible person or a maintenance service is informed accordingly.
The output contacts can initiate remote switching operations via SMS short messages, in order to switch various devices and sensors on and off. Possible applications are the monitoring of air-conditioning or pumping systems as well as frost monitors and heater controll. Or external lighting, level and temperature measurements, and not least burglar and theft alarm systems.
The voltage supply of the ALG4011 is via a wide-range input, so that existing DC voltage sources can be used. To increase operational reliability, there is optionally a maintenance-free backup unit which has sufficient power to be able to transmit some additional SMS short messages in case of an interruption or failure of the power supply. The housing is designed for mounting on the mounting rail.
---
Range of application
Protection from:
People and vehicles
Holiday homes and boats
Construction sites / construction machinery
Office containers, measuring stands
Stables, mast installations
Fault reports from:
Unmanned working machines
Pumps e.g. For groundwater reduction
Mobile generators
alarm systems
Frost guards
Threshold values from:
Measuring points in cooling houses
Frost monitoring in tree nurseries
Storage containers
Flood levels
Monitoring of:
Charges
Parking vehicles and swap trailers
Marinas
Resorts
Switched on and off various electrical loads with the relay outputs of the ALG4011 by remote.
Optional accessories for ALG4011
Temperature sensor
Humidity sensor
ANDROID App
---
Technical data
Radio module
Cinterion TC65i
JAVA-Modul
Housing
DIN rail
IP20, width 22,50 mm
height: 117mm; depth: 115mm
Programming
interface
RS232
Antenna
connector
SMA
Inputs
4 (by terminal strip), galvanically isolated
Valid voltage range: -30V … +30V
Undefinined voltage range: +1.5V … 4.5V
Detected voltage range: 4,5V … 30V
Outputs
2 (terminal strip),
relais switched galvanically isolated
Valid voltage to ground of the ALG4011
power supply: -30V … +30V
Max. switching circuit: 1A
Type: normally closed contact or
normally open contact
Temperature
sensor
1 (terminal strip)
Range: -20°C ... 70°C
Resolution: 0.1°C
Max. deviation at 20°C: 0.8°C
Power supply sensor
1 (internal)
effective range: 4.5V … 30V
Resolution: 0.1V
Max. deviation
from 7V to 30V: 0.3V
Watchdog (internal)
1 (internal)
Alarming
SMS text message
Power supply
Voltage range for normal operation:
7V … 30V DC (terminal strip)
SuperCap (optional)
For alarming in case of power failure (black-out)
approx. 1 minute power buffer.
Power consumption
Average power consumption: 1.2W
(with GSM-module logged on and LAN activity)
Max. power consumption: 5W
(with an active voice call and loading
of the SuperCap battery)
Max. charging time for the backup unit:
10 minutes
Average power consumption in stand-by mode:
less than 0.5W
Work enviroment
Operating temperature range: -20°C … 55°C
Storage temperature range: -40°C … 85°C
Humidity range: 0% to 90%
Subject to modifications!