Stand-alone alarm device with integrated 3G engine.
Up to 8 inputs, 2 outputs, voice announcements, integrated backup batterie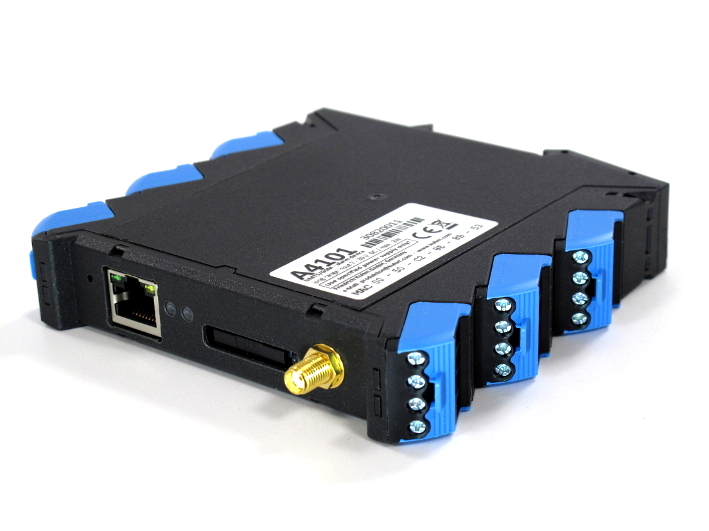 Alarming of a person or group of persons by voice call with a customized voice message.
Alarming by email or SMS text message.
Acknowledgement key function for each alarm by DTMF.
Remote switching by DTMF or text message.
For independant intrusion detection in secured areas and motorhomes or redundant surveillance of
air conditioning, energy systems and server cabinets etc.
Functionality
Via the A4101 alarm detections can be signaled by voice or text message. Each input or sensor activity can be signalized to up to five destinations consisting of mobile or fixed-line subscribers or e-mail addresses – therewith you will not miss any alert. Subscribers who receive an alarm call via voice message, can confirm the receipt by a DMTF acknowledgment to prevent further alarming to other participants of the destination list. The two output contacts can be switched by text command or DMTF input. Current switching states can be queried by text command. For your individual voice message you can either use pre-produced WAV-audio files, which can be imported via the WebUI or you set up a call to the A4101 unit in its recording mode and record your message by yourself.
In basic configuration the A4101 has eight digital inputs and two outputs. The device configuration is done by a web interface using a custom browser via the integrated LAN port.
For better redundancy, the A4101 is equipped with an integrated 3G-engine. Maintenance by remote via this 3G-engine will be possible soon. Thus, this device can be used completely independent from the company network. The wide range power supply of 7 to 30 volts, the device is very versatile. The DIN rail housing is easily mounted in popular control cabinets. From the server cabinet to be monitored to the fuse box at home, a cottage, your classic car or a motor home. Extension modules for additional inputs/outputs or sensors are also possible. A battery backup unit for messages in case of power failure is available, too.
Application
The possible applications of this device are very versatile. At this point we want to give you a suggestion and some practical examples where this device can be used and already is in use.

Airconditioning – Energy systems
The Failure of an airconditiong or an energy system might cause severe trouble. Immediate action is often necessary. The A4101 can inform service personell by a imperative voice call which should not be missed.

Warehouses – Container
Everywhere where goods are stored, our A4101 can help you. Let yourself be alarmed either through door or window contacts when unauthorised gain access. Of course it is also possible to connect a motion sensor to the device – all examples thus are silent alarms.

Server cabinets
A customer has a server environment and was a victim of a hacker attack. When he realised it, he had no longer access to his network from the outside. Since he was not on site at that time, it took some time before he could react. Today he uses an A4101 and has the possibility to disable the network access from the outside. Still more, he gained a huge piece of security.

Motor home
Built in a motor home, the A4101 is able to solve several tasks. Of course, it works a burglar alarm device. But you can access via the A4101 e.g. if the air conditioning does work correctly add further door contacts or the monitoring of the booster battery or generally the electrical circuit of the vehicle.
.. more typical applications
Boats
Construction machines
Exhibition stands
Stables
Driverless machines
Pumps e.g. drawdown
Mobile generators
High water level
These are only some examples of the wide practical usability of the A4101. We hope we have given a good deeper view inside of this device.
If you have any specialised requirements – let us know!
---
Technical data
Radio module
Gemalto Cinterion EHS5-E
Dual-Band UMTS (WCDMA/FDD)
EHS5-E: 900 and 2100 MHz
EHS5-E: 900 and 1800 MHz
EHS5-US: 850 and 1900 MHzDual-Band GSM
EHS5-US: 850 and 1900 MHz
mini SIM: 1.8V or 3V
Housing
DIN rail
IP20, width 22,50 mm
height: 117mm; depth: 115mm
LAN-interface
Ethernet 10/100 Base-T, RJ45
Antenna connector
SMA
Inputs
up to 8 (by terminal strip),
galvanically isolated
Valid voltage range: -30V … +30V
Undefinined voltage range: +1.5V … 4.5V
Detected voltage range: 4,5V … 30V
Outputs
2 (terminal strip), relais switched
galvanically isolated
Valid voltage to ground of the A4101
power supply: -30V … +30V
Max. switching circuit: 1A
Type: normally closed contact or
normally open contact
Power supply sensor
1 (internal)
effective range: 4.5V … 30V
Resolution: 0.1V
Max. deviation
from 7V to 30V: 0.3V
Watchdog (internal)
1 (internal)
Alarming
voice message, email or text message
Power supply
Voltage range for normal operation:
7V … 30V DC (terminal strip)
Acknowledgement
by DTMF within a normal voice call
SuperCap (optional)
For alarming in case of power failure (black-out)
approx. 1 minute power buffer.
Power consumption
Average power consumption: 1.2W
(with GSM-module logged on and LAN activity)
Max. power consumption: 5W
(with an active voice call and loading
of the SuperCap battery)
Max. charging time for the backup unit:
10 minutes
Average power consumption in the stand-by mode:
less than 0.5W
Work enviroment
Operating temperature range: -20°C … 55°C
Storage temperature range: -40°C … 85°C
Humidity range: 0% to 90%
Subject to modifications!